A Course that teaches you how to make good decision in business backed by data
Assured mastery in Microsoft Power BI and its application in various field of real time world
Instructor-led live classes with access to recordings of the classes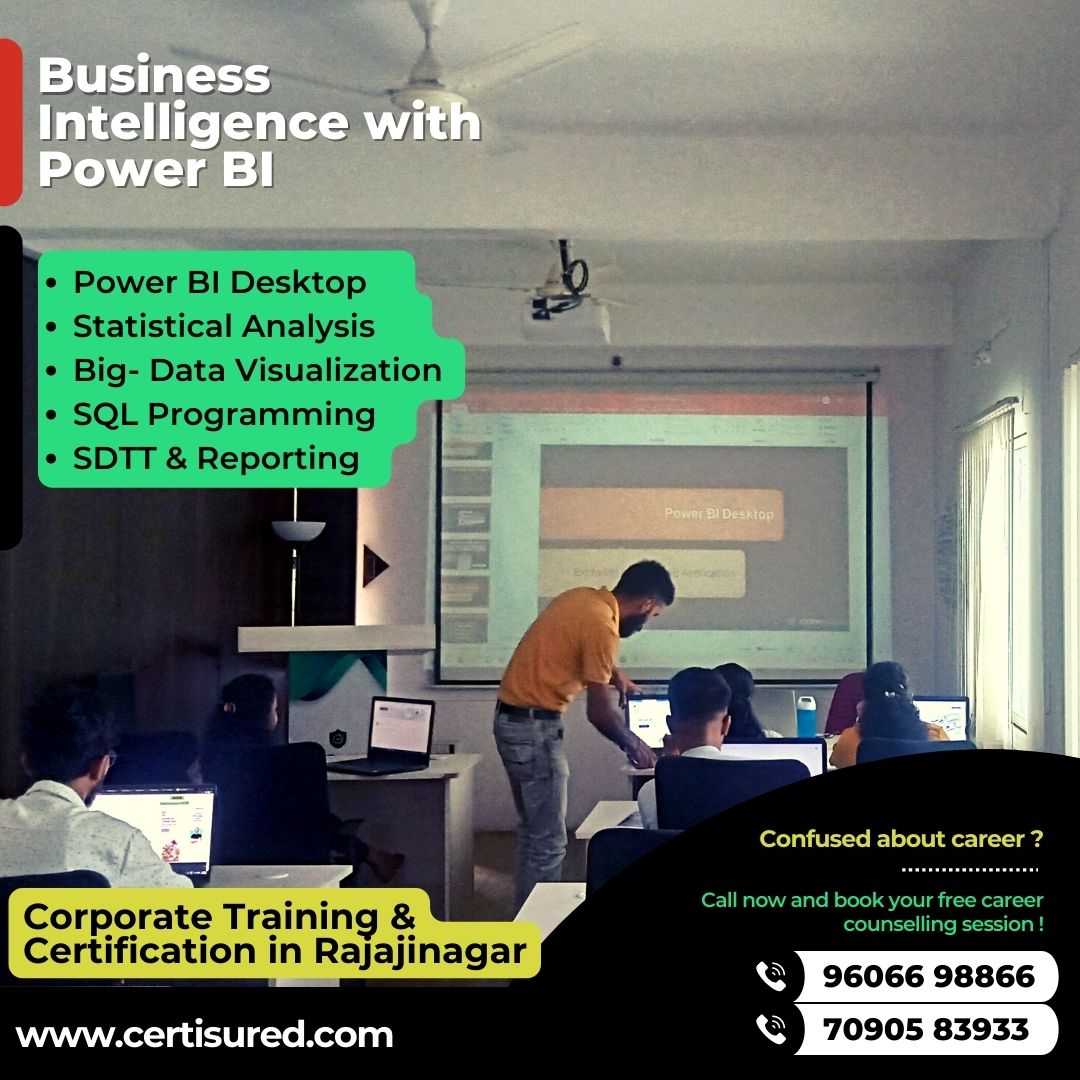 Microsoft Power BI is a powerful tool to make powerful decisions in business depending on the data.
Learn Power BI to create impactful visuals and reports. In this course, we will teach you how to use Power BI in Business Intelligence Platform and Data analysis from basic to advance levels. This course begins with creating a project in Power BI Desktop, connecting the project to a different source file, and taking your project's local machine to the Power BI cloud i.e Pro. Each module is designed accordingly to enhance your Power BI skills step by step. It also includes real-time projects which will help you to brush up on your skills and to pass the Power BI certification Examination.
Who should enroll?
Professionals who are working in the field of business analysis and business administration.
Researchers who rely on the data for their research.
Data Preparation, Data Pre-processing, Data Visualization, and Data Analysis for Machine Learning and Artificial Intelligence Projects.
Where
Online | Offline- Classroom
Understand how Power BI is fundamentally different from all other traditional data computation tools.
Achieve an edge in Microsoft Power BI which can set you apart from your peers.
Attain a complete grasp of how Power BI is applied to Data.
Get access to the best material for further mastery of Advanced Level Power BI.
At the end of this course students will be able to analyze data from different data sources and create their own data set.
Defends you from taking wrong decisions in the business, backed by the data, by getting insights into the data.
This course is a detailed industry excellence program. If you want just theoretical lessons without practical implementation, then this course is not for you. Instead, if you want to learn exactly how things are done in the industry and want to make a career in Business Intelligence, then you are in the right place.
This section deals with complete mastery of Power BI thinking at a beginner level. The modules taught will be more than adequate to understand the concepts of Business Intelligence, data pre-processing, and data analysis techniques used in data science.
Introduction to Power BI
What is Power BI?
Installing Power BI Desktop, Settling up projects and Connecting to the source file.
Power BI Query Editor Interface overview
Course Outline.
Welcome to Power BI Desktop
Attached Files
Understanding Power BI Desktop
Explore Data Model Interface
Creating Project File, Settings, and Query Editor
Power BI Query Editor
Connecting Power BI Desktop, Source File and Query Editor
Working with Rows
Filters
Remove Blanks and Empty Rows
Appending Files
Working with Columns
Replace values and error
Format and Error Handling
Close, Apply and Close&Apply
Working with Queries (Error Queries)
Pivot and Unpivot the data
Column Split
Star Schema and its Implementation
What is Star Schema, Understanding it with example
Star Schema and our Project.
Duplicates and Reference
Dimensional Table- Region
Remove Duplicates
Create Table -Enter Data Manually
Merge Files/Queries
What is Join Kind
Dimensional Table- Age
Extract and Conditional Columns
Fact Table
Mathematical Operation
Optimizing Project Performance
Data and Relationships
Relationship and Graph
Types of Relationship: [ 1:] and [:1]
M Language
DAX Language – Data Analysis
Understanding DAX – Basics, Syntax, Data Types, Operator, and Functions
DAX Calendar Function
DAX IF AND RELATED Function
Visuals in Power BI
Basic Concept of Visuals and Report
Creating First Visual
Tooltips, Hierarchies, and Drill Mode
Formatting Visual and Reports
Data Colors, Themes, and Wallpaper
Slicer and Sync Slicer
Tree maps and Tables
Filters in Visuals and Reports
Vikas is a data enthusiast and a passionate exponent of Business Intelligence and Power BI. He is a certified Machine Learning Engineer with experience in the practical implementation of machine learning pipelines. He combines his knowledge of Data Analytics & Power BI to create strategic visualization schemes for Power BI.
Vikas presently exploring the vast field of Data Science and Business Intelligence. Having had considerable experience on ML and AI projects, he finds it exciting to use Power BI for the dashboard and visualization of complex data. Also, mentor students on Business Intelligence certification in association with Certisured.
Frequently
Asked Question
Some of the frequently asked questions about the course are answered here
Where will the course be conducted?
We provide online as well as offline modes of training. Our live online training on the discord platform will provide you with the same learning experience you would receive in a physical classroom, without the hassle and cost of travel. You will interact with the instructor the same way you would in a physical course and receive the same courseware, labs, and tools. Our online programs are as interactive as the physical classroom. Try our online demo class to see it for real!
Will you provide a certificate?
"Certisured" = "Certified for sure". We believe in strong assessment and hence providing a certificate for the assessment is what we look forward to. We will provide two certificates namely, a certificate for training and a certificate of merit. We also provide a mark sheet that consists of a detailed assessment of the students. Our certificate is accepted globally and many of our students are placed worldwide.
Course
Pricing & Discounts
Early bird entries will get a discount up to 25% on the standard package. Write to learn@certisured.com to know your coupon code.
Standard
For easy emi options and early bird discounts write to learn@certisured.com
Bonus benefits !
Complete course and mentorship
10 hands on projects
Portofolio creation
Resume preparation help
Mock Interviews and Placement assistance